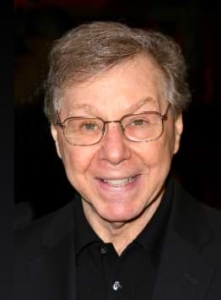 Maury Yeston
's music and lyrics include his internationally acclaimed Broadway musicals
Nine, Titanic
(both of which earned him Tony Awards for Best Score and Best Musical, and Grammy nominations) and
Grand Hotel
(Tony nomination, Olivier Award). The Broadway revival of
Nine
, starring Antonio Banderas, won an additional Tony for Best Revival of a Musical.  Yeston received Academy Award, Golden Globe, and Critics Choice nominations for Best Original Song for the film of
Nine
, which featured Daniel Day Lewis, Sophia Loren, Penelope Cruz, Nicole Kidman and Judi Dench. Off-Broadway are his additional musicals:
Phantom
,
Death Takes a Holiday
,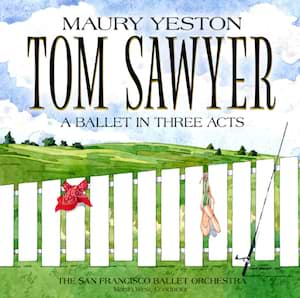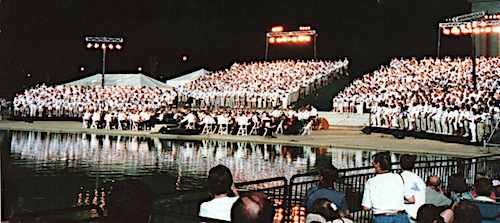 "An American Cantata" is a composition by Maury Yeston for 2,000 voices and the National Symphony Orchestra conducted by Leonard Slatkin. It was commissioned by the Kennedy Center for performance on the steps of the Lincoln Memorial as part of the Millennium Celebration in the Spring of the year 2000.
Composed and orchestrated by Yeston, the piece is a three-movement work that celebrates the achievement of the idea of individual liberty and equality, along with our inherent and universal entitlement to it, and the sanctity of each human life, as our civilization's single greatest intellectual accomplishment of the past thousand years.
Sung by a Mixed Chorus, Boys Choir, and Gospel Choir; texts include excerpts from the Magna Carta, the writings of Thomas Jefferson, Martin Luther King Jr.'s final Memphis speech ("I have been to the mountaintop"), and original lyrics by Yeston.
COMPOSER'S NOTE: In the photo above there are about 60 in the band, 200 in the Boys and Girls choir down left, and 200 in the Gospel choir down right. Then behind the band, 800 on the left and 800 on the right … inspired by the antiphonal choirs at St. Marco Venice (Gabrielli etc,). There were about 20,000 in the audience, arrayed down towards the Washington monument. When they commissioned me to write it for 2000 voices I asked if they would want 3000 if it were the year 3000. Of course, they said yes! The use of 2000 voices was a one-time event. The piece may be performed by far fewer voices such as 90 (30+30+15+15). The term "Boys Choir" denotes the desired sound. This may absolutely be a Children's Choir composed of boys and girls.
All three Movements of the "Cantata" can be rented as one piece, or each Movement is available to rent separately in both: (a) Full Orchestra Score and Parts version. (b) Choral and Piano Accompaniment version.
1st Movement
2st Movement
3rd Movement
INSTRUMENTATION: 3(1st=Picc), 3(3rd_EH),3(3rd=BsCl),3(3rd=ContraBsn) / 4,3,3(3rd=BsTbn),1 / Timp, Perc:[Glock, Crotales, Tubular Bells, Vibes, Tri, Tamb, Piatti, Bright Sizzle Cym, SusCym, LgGong, SnDr, Tom-Toms, GC] / Harp, Full Strings / Chorus / Rhythm Section (2nd Mvt. only): Piano, ElecBs,Drs)
Composed and Orchestrated by Maury Yeston. Premiered on March 8, 1977. Yo-Yo Ma, Violincello Principale, Sir Gilbert Levine, Conductor. Written for Orchestra, plus Principale and two additional Cello soloists. This is a live recording, best if you listen with earphones.
INSTRUMENTATION: 4(IV. Picc),4(IV.EH),5(V. BsCl),3(III.Contra) / 4,3,3(III, BsTbn),1 / Timp, Perc: [Xylo, Vibres, Mba, Celesta, Tri, Tamb, Antique Cymb (Crotales), Susp.Cym, Hi-Hat, Sizz.Cym, Piatti, Lg. Gong, Temple Bks, SnDr, Military Dr, Bs Dr] / Harp / Strings
COMPOSITIONS FOR PIANO SOLO
Sonata For Piano
Premiered at Sprague Hall, Yale University on October 13, 1972. Robert Cuckson, Soloist
Valse Melancolique At this time there is no recording available
COMPOSITIONS FOR SOPRANO AND SOLO PIANO
Five Ecstatic Songs
For Soprano and Piano (no recording) Song lyrics by Maury Yeston, J.R.R. Tolkien and Traditional. There is no recording at this time.
Maury Yeston's "December Songs" was inspired by Franz Schubert's 1827 classical song cycle, Die Winterreise. "December Songs" was commissioned for Andrea Marcovicci by the Carnegie Hall Corporation in honor of Carnegie Hall's Centennial Season. The Premiere was given in Weill Recital Hall at Carnegie Hall, New York, on April 16, 1991.The singer portrays a brokenhearted young woman wandering the snowy paths of Central Park. In her journey through the 10 songs, she finds the strength to recover and begin her life anew. The complete song cycle has been recorded by Ms. Marcovicci, Harolyn Blackwell, Hetty Sponselee, Sheila Conolly and Laura Osnes (in English), Pia Douwes (in German), Isabelle Georges (in English and French), Edyta Krzemien (in Polish) … and most recently by Stearns Matthews, a male cabaret singer (in English). "December Songs" can be rented in its entirety or any of the 10 songs can be rented individually (or in any combination), either with solo Piano accompaniment or with the Orchestra score. The audio clips below are from the Laura Osnes recording on PS Classics.
1. December Snow
2. Where Are You Now
3. Please Let's Not Even Say Hello
4. When Your Love is New
5. Bookseller In the Rain
6. My Grandmother's Love Letters
7. I Am Longing
8. I Had a Dream About You
9. By the River
10. What a Relief
INSTRUMENTATION: Woodwind 1: Flute, Clarinet; Woodwind 2: Clarinet, Oboe d'Amore (or Oboe in C) / 1 Violin, 1 Viola, 1 Cello / Piano
(With Piano or Chamber Orchestra accompaniments)