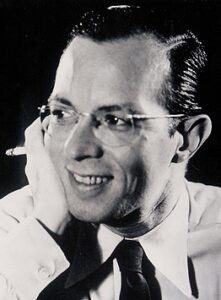 "Jerome Moross consciously refused to be swayed by popular trends. He turned away from modernist techniques (such as serialism) early in his career and he never looked back. Instead Moross called on the music he heard around him for inspiration, including popular song … Because his music was inspired by American musical idioms, it was intrinsically American."
Mariana Whitmer, Executive Director of the Society for American Music
Born on August 1, 1913, in Brooklyn, composer Jerome Moross was an innovator in the musical theater, in ballet, movies and in other musical realms.
He graduated at age 18 from New York University, and in the 1930s was a member of Aaron Copland's Young Composers Group which included 
Bernard Herrmann
. In his book 
The Composer in Hollywood,
 Christopher Palmer wrote that Moross "sought to develop an authentically American nationalist idiom which was not exclusively jazz-orientated but drew nourishment from a great variety of American folk and popular music cultures: musical comedy, vaudeville, folksong of the Appalachian mountain variety, spirituals, blues, rags and stomps."
During the 1940s, '50s and '60s Moross wrote for concerts, radio, theater, and movies. He orchestrated Copland's scores for the films Our Town and The North Star, as well as Hugo Friedhofer's The Best Years of Our Lives.
Starting in 1948 he began getting film composing assignments of his own including the thriller The Sharkfighters, the Cinerama travelogue Seven Wonders of the World and many others culminating in his Oscar-award-nominated masterpiece, The Big Country, a sprawling Western directed by William Wyler starring Gregory Peck, Charlton Heston, Carroll Baker and Jean Simmons. Moross' symphonic score with folk-song-like tunes redefined the sound of the Western and brought more offers to him. His other Westerns included The Proud Rebel, The Jayhawkers, The Adventures of Huckleberry Finn and the themes for television's popular Wagon Train and Lancer.
He scored films in other genres, including the medieval drama The War Lord, the cowboys-versus-dinosaurs fantasy The Valley of Gwangi, Paul Newman's sensitive drama Rachel, Rachel and his other magnum opus in film, The Cardinal.
Moross regularly challenged the status quo: His ballet Frankie and Johnny drew on folk themes, his Ballet Ballads combined ballet and theater, and his remarkable The Golden Apple (with librettist and lyricist John Latouche) won the New York Drama Critics' Circle Award for Best Musical. It was a sung-through musical retelling of Homer's Iliad and Odyssey myths set in turn-of-the-century Washington. Its best-known song is "Lazy Afternoon," introduced by Kaye Ballard and since covered by everyone from Barbra Streisand to Tony Bennett.
His Gentlemen, Be Seated!, a review of events during the Civil War performed as a minstrel show, was too much for critics or audiences to handle as the civil-rights movement was reaching its height in 1963. It played only three performances at New York's City Center Opera.
Moross also had a vast knowledge and appreciation of classical music. Sir Thomas Beecham conducted the premiere of his first and only symphony in 1943 and he spent much of his last decade writing chamber music. In 1977 he turned Lucille Fletcher's radio play Sorry, Wrong Number into a one-act opera.
Moross died on July 25, 1983. For more information about Jerome Moross please visit his website (www.jeromemoross.com)
NOTE: Much of the text accompanying the musical selections below was adapted from the liner notes written by James Fitzpatrick in the booklets accompanying the two indispensable collections of Moross' music on Silva Screen Records.