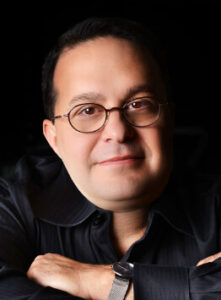 A HOPEFUL PLACE: A SONG CYCLE FOR SOPRANO & CHAMBER ORCHESTRA is a nine-movement song cycle composed by Dan Redfeld, following a woman's journey through life from birth to death. Librettist John Gabriel Koladziej describes the piece as a a life-cycle-song-cycle. Across the many movements, Redfeld and Koladziej explore the various stages of life, such as the adventurousness of early life in "Childhood," the confusion of adolescence in "Words They Never Say," and the joys, pleasures, love, and possibilities found in adulthood in "No Longer a Child / Somehow," "Vocalise," and the jazzy "Bacchanal." The piece culminates in "A Hopeful Place," a poignant meditation on pain and hope drawing from the experiences of the composer and librettist in post–9/11 America. The piece closes with the elegiac "Evensong" and the finale "Moments / I Wish You Music."
Redfeld composed a lush score moving through many styles, from opera to musical theatre to jazz. He employs several distinctive themes to heighten the drama of the piece, the most central being the sweeping "Vocalise" theme, which weaves the many movements together. A Hopeful Place both opens and closes with this theme—thus, completing the cycle and reminding the listener of the role of music in life's journey.
A Hopeful Place was commissioned by Ensemble Green of Los Angeles and was written between August 2009 and July 2010. It received its premiere on the composer's birthday—October 2, 2010—featuring Kristi Holden as the soloist, with members of Ensemble Green conducted by Redfeld.
ABOUT THE AUTHORS
Dan Redfeld
 holds a degree in composition with a concentration in conducting from the University of California, Los Angeles. His compositions include "January 15, 1947," for solo harp, "Travels" for piano quartet, "Fantasy for violin and piano," and "Arioso for Oboe, Percussion, and Strings." He has also composed the scores for many films including "Clinic E" and "Moustache," as well as numerous scores for silent films
Redfeld has written six works for musical theatre, such as Tales, Dangerous Liaisons, and Little Women – An American Musical, which he wrote with lyricists Christina Harding and John Gabriel Koladziej. He is currently working on an untitled stage work with Harding and Koladziej.
Lyricist/Librettist John Gabriel Koladziej trained at the Stella Adler Conservatory in New York City and holds a degree in Drama and a Masters in Musical Theatre Writing, both from New York University. A Hopeful Place marks John's second collaboration with composer Dan Redfeld after co-writing the lyrics for Little Women – An American Musical (with lyricist Christina Harding).
The recording, which you can hear in its entirety below, is issued by Navona Records.
To order click HERE.
Music by Dan Redfeld
Text by John Gabirel Koladziej
Soprano: Kristi Holden
The Hollywood Symphony Orchestra, conducted by the composer
INSTRUMENTATION: 1,1,1,1 / 2,1,0,0 / Perc:[Timp, SizzleCym] / Piano, Harp / Strings
NOTE: In addition to the full orchestra version, a reduction for solo piano is available.